Can I Sue The Landlord If I Fell Down The Stairs?
January 11, 2023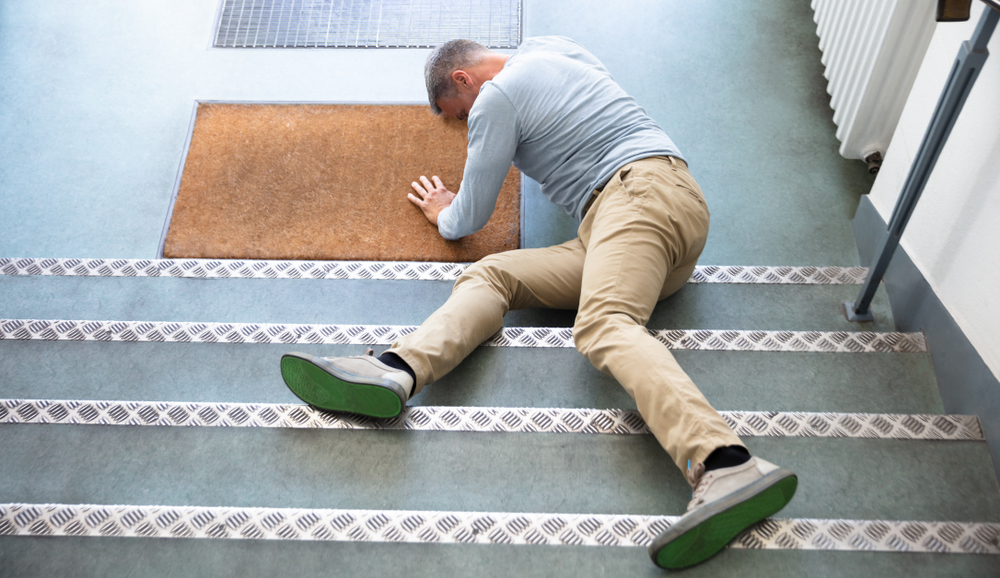 Slip and fall or trip and fall accidents on stairs can take place anywhere. If you fall on stairs while visiting a restaurant, a store, or an office building, you know you might be entitled to pursue a legal claim for compensation against the property owner. But if you are injured in a fall down the stairs in an apartment building or complex, what are your rights against the landlord?
When Can Property Owners Be Liable For Slip And Fall Accidents?
Landlords or property owners may be held liable for slip and fall or trip and fall accidents that occur on stairways or staircases that residents or visitors use to access or move about the property if there is a dangerous condition on the stairs that resulted in the accident occurring. Typically, property owners can be held liable for fall injuries suffered by a visitor who is lawfully present on the property, such as a customer of a store or other business, or a social guest of a residential tenant.
In addition, legal liability will only attach when a fall takes place on a staircase that a visitor is authorized to access. This excludes stairways for maintenance access or emergency exit staircases. For this reason, staircases that are not intended for regular use or for access by visitors will usually have signs advising of such restrictions on use.
Duties Of Landlords To Visitors
The duty of a landlord to keep public access stairways safe and free from hazards will depend on the legal status of the injured visitor. The highest duties are owed to invitees or someone who is on the property for the benefit of the property owner or landlord (business customers, for example). Property owners or landlords owe the duty of taking reasonable efforts to regularly inspect their premises and to clean up or fix any hazards, or to warn invitees of the presence of such hazards
Other lawful visitors to property fall into the category of a licensee, or someone with permission to enter the property but who does so for their own benefits rather than the benefit of the property owner, such as utility workers or door-to-door salespersons. A landlord or property owner owes a licensee a duty to clean up or fix any hazards that might have been created by the owner, or to warn of the presence of hazards known to the owner.
Trespassers, or someone not authorized to enter the property, are only owed a duty to be free from intentionally or recklessly inflicted harm by the property owner.
Finally, tenants of commercial or residential rental properties may be entitled to a duty of care from their landlord for stairways in common spaces. Stairs within the tenant's leased premises are usually outside the landlord's duty unless the tenant notifies the landlord of a hazardous condition and the lease puts the maintenance obligation on the landlord.
Other Potentially Liable Parties
After a fall down the stairs, there may be other parties who can be held liable for injuries, such as:
A property management company hired to manage the premises
Maintenance companies hired to perform cleaning or repair
Landscaping companies, which may be responsible for performing snow and ice removal from exterior stairways
Contact A Premises Liability Lawyer At DLopez Law Firm To Discuss Your Slip/Trip And Fall Accident Case In Florida Today
Did you or a loved one sustain serious injuries due to a slip/trip and fall accident in Florida? Don't let the medical bills pile up while you wait for the negligent party or their insurance company to do the right thing. Right now, you need an aggressive personal injury attorney on your side, fighting to get you the compensation you need, want, and deserve. Skilled premises liability lawyer Dayle Lopez represents clients injured because of slip and fall accidents in Coral Gables, Miami, the Florida Keys, Miami-Dade County, Central Florida, North Florida, and throughout the State. Call 305-224-8354 or fill out our online contact form to schedule a free consultation about your case. 
The articles on this blog are for informative purposes only and are no substitute for legal advice or an attorney-client relationship. If you are seeking legal advice, please contact our law firm directly.